 Volunteer With the NBCC Foundation!
Published 2/17/2021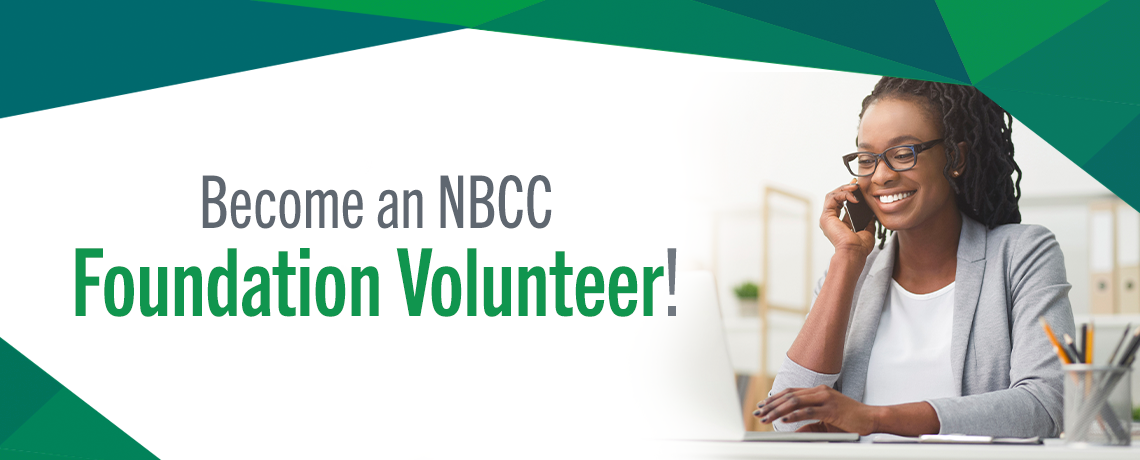 The NBCC Foundation is currently seeking board certified counselors who want to give back to the counseling community by investing in counselors-in-training through a variety of ways. The NBCC Foundation relies on a dedicated group of volunteers whose commitment is critical to the ongoing success of each program.
NBCC Foundation volunteers can serve in several ways, including as application reviewers, as mentors to master's- or doctoral-level counseling students, and by providing trainings or specialty workshops during Symposium and other events throughout the year.
You may ask, why? Why volunteer? As an NBCC Foundation volunteer, you can increase your professional network, build your hard and soft skills, and give back by donating your time to counselors-in-training who are diligently working to secure their footing in a profession beneficial to many.
Your meaningful contribution of an invaluable resource (your time) is one of many ways to give back while advancing the profession. When asked to volunteer, the first concern is usually time. How much of your time is required to be effective?
On average, our application review sessions last approximately two weeks with an average of eight hours total review time. Our application review process is completely online. Our mentors are asked to meet with their mentees a minimum of once every quarter with the option to meet monthly. Mentoring sessions are no longer than one hour, unless mutually agreed upon, and can be completed online or by telephone.
You can begin volunteering at any time throughout the year, and staff will provide all necessary training to ensure a beneficial experience for all!
Mentors
Cultivate a strong professional relationship supporting a master's- or doctoral-level counseling student.

One-year commitment with one 1-hour session per quarter.

Must be a board certified counselor with at least two years of postgraduate experience.
Application Reviewers
Provide opportunities for counselors-in-training by scoring online applications!

Review applications for scholarships and fellowships online.

Sessions last two to three weeks and average eight hours of review time.

Must be a board certified counselor with at least two years of postgraduate experience.
Presenters and Panelists
Invest in those around you!

Present online webinars.

Participate in online or in-person trainings or expert panel discussions.

For more information about becoming a volunteer or to submit an application, visit NBCCF.org/BeInvolved or email foundation@nbcc.org and ask to be connected with our Volunteer Coordinator, Brandice Bell.