 Volunteer Reflects on Long-Term Impact of a Positive Mentor Relationship
Published 3/23/2021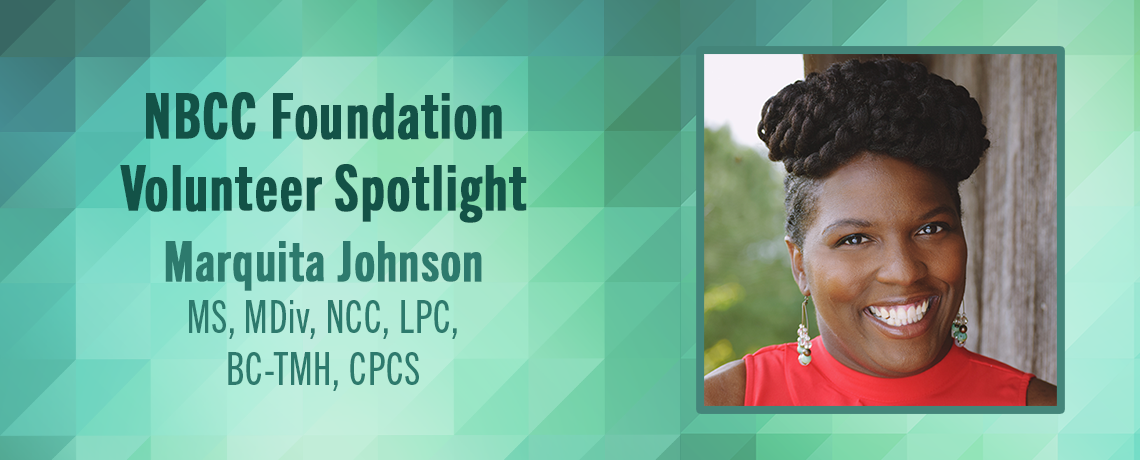 Marquita Johnson began volunteering for the NBCC Foundation in 2016 after she responded to an email call for volunteers. She was at the point in her career where she felt she could offer support and share wisdom to a counselor-in-training and now calls it the most rewarding experience in her career.
However, for Marquita, the opportunity to connect with a mentor of her own did not present itself until much later in her career. As a result of this missed opportunity early on, she shares that she wanted to be intentional about volunteering and making a positive impact on others. It was her own mentor who encouraged her to seek additional trainings and to further her education, which helped her work through barriers in order to seek a better outcome for her dreams.
Marquita strongly believes counseling includes teaching, advocacy, clinical skill set, and gatekeeping and believes they all work closely together. She chose to volunteer with the NBCC Foundation because the mission of the organization, to leverage the power of counseling by strategically focusing resources for positive change, and its programs aligns with her own beliefs about the profession and her duty to serve others.
Speaking to the mutually beneficial aspect of service, Marquita shares, "Volunteering helps you grow as a clinician. It is one of the by-products, but not the reason why." As the years have passed since she first became a clinician, changes in technology and the profession have allowed her to learn from those she mentors. In turn, she believes the information mentors provide can be an invaluable blueprint or roadmap and a great tool to hold future counselors accountable and help them avoid pitfalls veteran counselors have had to overcome.
Providing mentoring and counseling services during the past year has also presented her with a unique set of challenges. Marquita shares, "You can learn skills, but if you don't care for yourself, it will always be a problem. You have to be well and able to serve clients." Since the initial impacts of the pandemic, she has made a point to be more mindful and check in with her peers and mentees more frequently.
In her 11 years as a counselor, Marquita has worked in crisis care, college counseling, and community mental health while maintaining a private practice. After interning as a chaplain and having the opportunity to work in an active crisis management environment (as opposed to a post-crisis environment), doors opened for her to work as a speaker, trainer, and collaborator.
Entering her twelfth year as a clinician and sixth year as an NBCC Foundation volunteer, Marquita is also working on publishing and researching the efficacy of telemental health with minority populations, and she is currently enrolled in a doctoral counseling program. She has also presented a webinar for the NBCC Foundation titled "Engaging Communities of Color in Therapy With Technology." A recording of this webinar can be viewed in the NBCC Foundation webinar archives through i-counseling.net.

For more information about becoming an NBCC Foundation volunteer or to submit an application, visit NBCCF.org/BeInvolved or email foundation@nbcc.org to connect with staff.