 Second Annual Virtual Career Fair Provides Space for Connections
Published 2/23/2022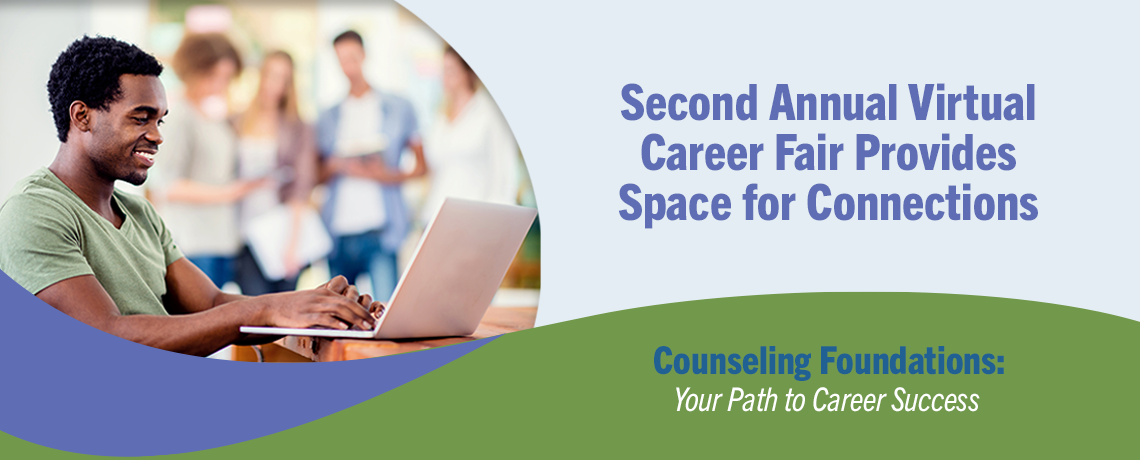 The Professional Resources Department of NBCC recently held its second annual virtual career fair, Counseling Foundations: Your Path to Career Success. With over 350 registrants, the event served to connect current counselors, counselor educators, and recent or soon-to-be graduates with companies and organizations across the country looking to hire counseling professionals.

The first event, held in May 2021, was created as a response to the COVID-19 pandemic and the resulting lack of, at the time, in-person career fairs or conferences specifically targeting counseling professionals and students.

This year's event and employer recruitment focused more heavily on organizations working with underserved communities and clients who lack many needed mental health resources. This focus was to continue support of the Foundation's work to provide greater access to mental health resources and counseling professionals for those who are traditionally underserved.

"The pandemic brought greater visibility to the disparities in mental health care that exist in the United States," says Catherine Clifton, Director of Professional Resources at NBCC. "NBCC and the NBCC Foundation have always worked to bridge that gap, so providing a space for counselors and employers to connect and make strides toward closing the gap is something we are proud and excited to do."

Because of the focus on those communities, Counseling Foundations also presents a particular opportunity for current and alumni awardees of the Foundation's Minority Fellowship Program and Scholarship Program—counseling professionals, students, and educators who have engaged in education and professional development specifically designed to prepare them to work with the communities most in need of mental health services and are therefore highly qualified candidates for employers working with underserved populations.

The virtual career fair was free for job seekers to attend and offered a unique and affordable way for job seekers and employers from diverse cultural backgrounds and geographical locations to connect and create partnerships intended to increase access and promote mental health equity across the United States.

Twenty-five booths comprised the virtual space and included employers from across the country, as well as three resource booths for candidates to learn more about services and programs offered by the NBCC Foundation, the Center for Credentialing & Education, and NAADAC, The Association for Addiction Professionals.

The virtual platform allowed employers and candidates to connect one-on-one via a text chat feature and continue their engagement through video and audio calls. Candidates could visit employer booths prior to the live event and research the company or view open opportunities. Likewise, employers could view and screen potential candidates prior to the live event and schedule chats with those who qualified for their open positions.
Thanks to this year's sponsors and employers:
Options for Southern Oregon – Gold Sponsor

Center for Credentialing & Education – Silver Sponsor

Penn Medicine Princeton House Behavioral Health – Silver Sponsor

Akeela, Inc.

Boys Town

Center for Emotional Health

Children's Home & Aid

Children's Home Society of North Carolina

Fellowship Hall

Heart and Solutions, LLC

Jackson County Mental Health

Kaiser Permanente

Kintegra Health

Larimer County Criminal Justice Services

Metropolitan Family Services

NBCC Assessments Department

Safe Harbor Behavioral Care of Northern Virginia

Shoreline Wellness Center & Behavioral Health Clinic, LLC

Southwest Key Programs – Arizona

Southwest Key Programs – Texas

Talk to Me, Inc.

Walden Behavioral Care
The Counseling Foundations virtual career fair will continue to be an annual event hosted by the Professional Resources Department of NBCC and the NBCC Foundation. Information on next year's event as well as sponsorship and employer attendance opportunities will be announced across the NBCC and NBCC Foundation platforms and on the event webpage.

Sign up to receive registration information as an employer or candidate for next year's event by emailing CareerFair@nbcc.org.