 NBCC Foundation Continuing Education
Published 1/21/2021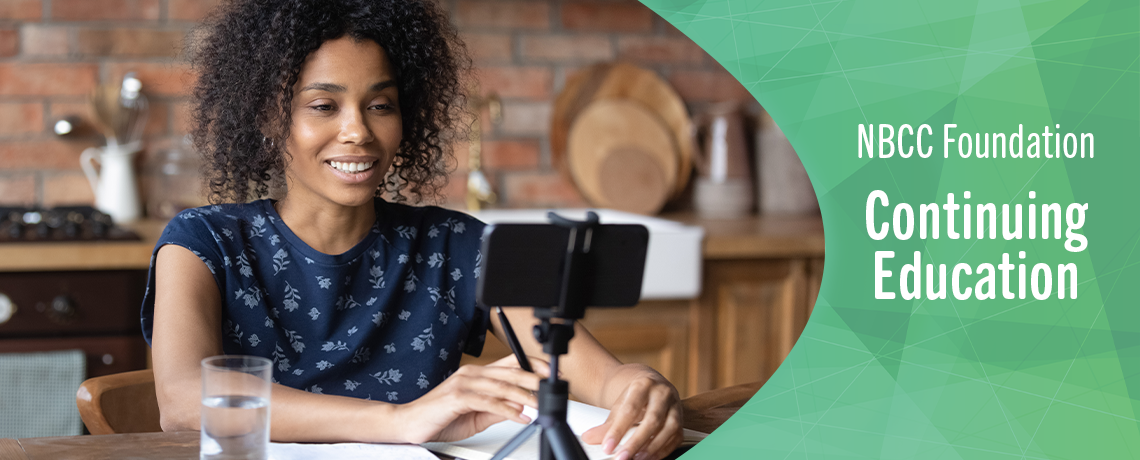 The NBCC Foundation puts forth many efforts to enhance care for underserved populations and provide ongoing training to National Certified Counselors (NCC), Center for Credentialing & Education (CCE) credential holders, and Foundation Minority Fellowship Program (MFP) Fellows and Scholars. One of those opportunities is through live webinars, many of which are recorded and made available via CCE Academy after the live session. One of the many benefits of being an NCC is the ability to attend the Foundation's live, monthly webinars at no cost and earn continuing education credit. Webinars are also provided at no cost to the Foundation's current MFP Fellows and Foundation Scholars as an additional resource and benefit to their professional development.
Recent Foundation webinar topics and titles have included:
A Clinician's Ethical Responsibility to Reduce Cultural, Sexual, and Gender Identity Microaggressions
Beyond Basic Needs: Counseling and Support for Foster Youth During a Crisis
Disrupting Educational Spaces: Using School-Based Mentoring Programs to Center African American Males as Public Intellectuals
COVID-19–Related Stress in Health Care Workers
Upcoming Foundation webinars include:
Keepin' It Real: Healing from Historical Trauma of Slavery and Segregation
Three Misconceptions About Mental Health That Prevent People From Accessing Help
Become a Webinar Presenter
The Foundation is currently seeking dynamic webinar presenters who can provide creative and unique sessions that highlight evidence-based and promising practices or relevant research addressing mental health disparities for minority, military, rural, and other underserved communities.
Webinars addressing the following themes will also be considered: counselor self-care, professional development and networking, research, social justice and advocacy, among others.
Webinars are conducted online, requiring no travel, and the NBCC Foundation handles all the logistics of managing the webinar platform, advertising, and promotion. Most webinar series also provide a small honorarium or in-kind option for webinar presenters. All webinar presenters must hold a minimum of a master's degree in counseling or a related mental health field and be a board certified counselor.
If you are interested in presenting a webinar, please submit a proposal through the online webinar submission form.
The Foundation's entire webinar series library can be found at nbccf.org/webinars.
Visit CCE Academy to view recordings for most archived webinars and have an opportunity to purchase the accompanying course to earn continuing education credit.