 NBCC Foundation and CCE Awards
Published 2/17/2021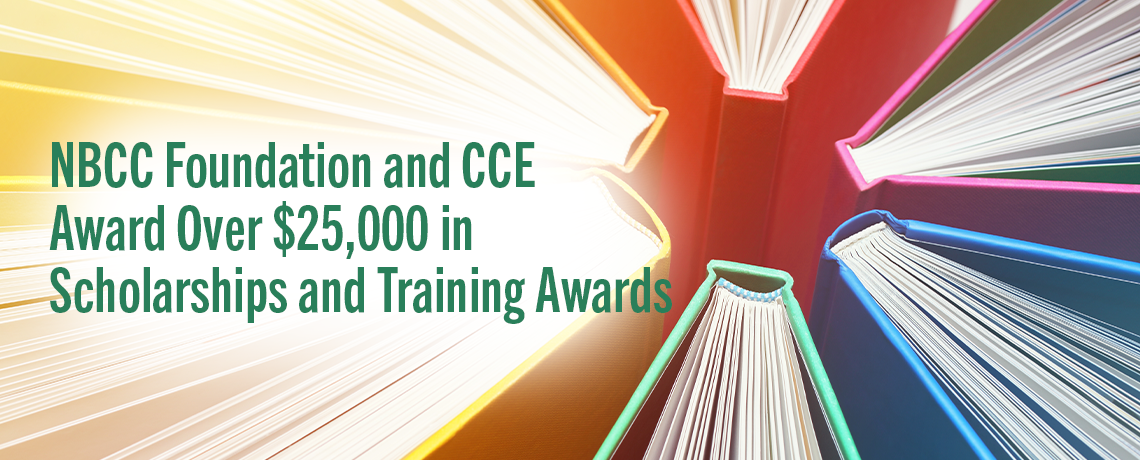 Since 2012, the Center for Credentialing & Education (CCE) has provided a variety of scholarships and professional training awards through the NBCC Foundation to counseling professionals around the world. The first scholarship provided in 2012 was for a master's-level counseling student pursuing the Global Career Development Facilitator (GCDF) credential. The CCE Scholarship Program, in collaboration with the NBCC Foundation, has grown over the last 10 years to provide a total of over $161,000 in awards to assist counseling professionals in attaining several other CCE credentials and to support and increase their ongoing professional development and continuing education opportunities.
This year's awards included scholarships and training assistance awards for the following CCE credentials:
GCDF Domestic

GCDF

International

Board Certified Coach (BCC)

CCE Approved Clinical Supervisor (ACS)

Board Certified-TeleMental Health (BC-TMH) Provider
In response to the COVID-19 pandemic, CCE and the NBCC Foundation introduced the BC-TMH training award to provide training tuition assistance for those pursuing the BC-TMH credential. The purpose of this new award is to increase the capacity of counselors serving clients at the highest standards of clinical practice through telemental health services. Ten awards in the amount of $500 each were awarded to individuals pursuing this credential through CCE.
Each of the CCE scholarships and training awards offered supports the NBCC Foundation's mission to leverage the power of counseling by strategically focusing resources for positive change as recipients of these awards work to become innovators of counseling practices that benefit the communities and individuals with whom they work. The next application period for CCE scholarships awarded through the NBCC Foundation will begin in May 2021. To view current eligibility requirements as well as a list of the current awards offered, visit nbccf.org/programs/scholarships.

Congratulations to the newly awarded recipients!
GCDF Domestic
Jennifer Chiaramonti

Jonique Childs
GCDF International
Board Certified Coach
Frank Barron

Patricia Phillippi

Jessica Santillan

Teresa Silva

Nena Tahil
CCE Approved Clinical Supervisor
Daniel Birdsong

Constance Cromartie

Jessica Dean

Maribeth Gajewski

Raphael Samson

Alexis Wilkerson
Board Certified-TeleMental Health Provider
Jade Berry

Karen Cathey

Farra Criswell

Keisha Johnson

Keith Klostermann

Lotes Nelson

K. Lynn Pierce

Gwendolyn Roit

Andrea Scott

Yvette Tolbert