 Inaugural Scholarship Awardee Carries Forward Legacy of Care
Published 6/21/2021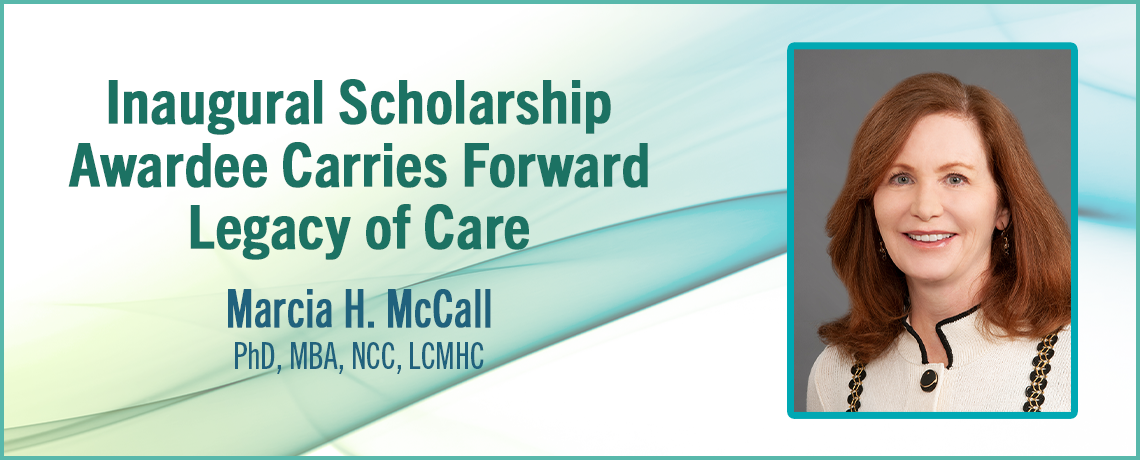 Dr. Marcia H. McCall was awarded the inaugural Dr. Nicholas A. Vacc Scholarship in 2018 by the NBCC Foundation. This annual scholarship was endowed to the NBCC Foundation in memory of beloved counselor and counselor educator Dr. Nicholas A. Vacc, by his wife, Dr. Nancy Vacc.

Dr. Vacc's influence shaped both the university he called home for most of his career, The University of North Carolina at Greensboro (UNCG), as well as the larger counseling profession. Dr. Vacc was a key player in the development of national standards for the accreditation of counseling programs and worked closely with his colleague Dr. Larry Loesch on early development of the National Counselor Examination.

As the first recipient of this award, Dr. McCall was recognized as a then doctoral-level counseling student committed to advancing the profession through research and testing, one of the goals of the endowed scholarship.

While earning her PhD in counselor education at UNCG, Dr. McCall, also a graduate of The Pennsylvania State University and Wake Forest University, researched an intervention for alcohol and drug use in medical practice: Screening, Brief Intervention, and Referral to Treatment (SBIRT). Dr. McCall assessed SBIRT's effectiveness when performed by professional counselors rather than physicians or nurses. The counselors served on collaborative teams with medical providers, a practice structure known as integrated care. SBIRT brings substance use interventions to people who may benefit from treatment but have not had access to it for cultural, environmental, personal, or other reasons. These are often individuals from underserved communities, which the Foundation's programs have focused on serving by supporting counselors offering expanded resources to these populations.

Dr. McCall completed her PhD in 2019 and currently works at Wake Forest School of Medicine as an assistant professor for psychiatry and behavioral medicine as well as an assistant professor in physiology and pharmacology. Before becoming a counselor and educator, she spent several decades working in health care management, directing a large multidisciplinary program funded by the National Institutes of Health and managing business operations for two clinical departments with researchers, clinicians, and educators. She shares that "Health care management got so corporate...I felt separated from the patients, and I wanted to have that [direct] contact." She realized that the interpersonal aspects of her job were what she enjoyed most and decided a career shift into counseling would better fit her long-term goals.

She went on to earn her MA in clinical mental health counseling from Wake Forest University and as a part of her practicum, she counseled inpatients and outpatients of the affiliated medical center. She and other mental health professionals would conduct assessments for substance abuse, depression, anxiety, suicidality, and related clinical conditions, then provide counseling. Working in this type of integrated care setting was exactly what Dr. McCall hoped she could do.

She shares that a lot of bias still exists among medical professionals about mental health issues, and counselors working in this setting can ensure patients are seen as human beings and offered services no matter their past or current traumas or circumstances. She sees integrated care counselors as ambassadors for the counseling profession.

Dr. McCall has had the opportunity to work in the medical school's counseling center, providing therapy to a variety of trainees such as medical students, graduate students, pharmacy students, nursing students, and physician assistant students. By benefiting from counseling, these students can go on to ensure their patients receive comprehensive physical and mental health services.

Over the past year, Dr. McCall helped create a team of researchers consisting of individuals from Wake Forest Health, Atrium Health in Charlotte, and UNCG who are collaboratively applying for research grants and opportunities to continue studying mental health interventions in medical practices. She is energized by this endeavor and is looking forward to working with this newly formed team to further bridge the gap in services to those in need of person-centered integrated care.

As the inaugural recipient of the Dr. Nicholas Vacc Scholarship, Dr. McCall's work is carrying his legacy forward and connecting the aspects of the counseling profession he felt most important: education, research, and collaboration, as illustrated in his decades-long work to further the profession on a national stage and educate and mentor those new to the field.

Applicants for the Dr. Nicholas Vacc Scholarship award must be full-time doctoral-level counseling students with a dissertation focus on research and/or testing that strengthens the field of counseling. They must be enrolled in a CACREP-accredited program and provide documentation of membership in Chi Sigma Iota. For full eligibility requirements or to apply for the Dr. Nicholas Vacc Scholarship, please visit nbccf.org/programs/scholarships. The application period runs through July 31, 2021.