 How Can You Give Back in 2022?
Published 1/14/2022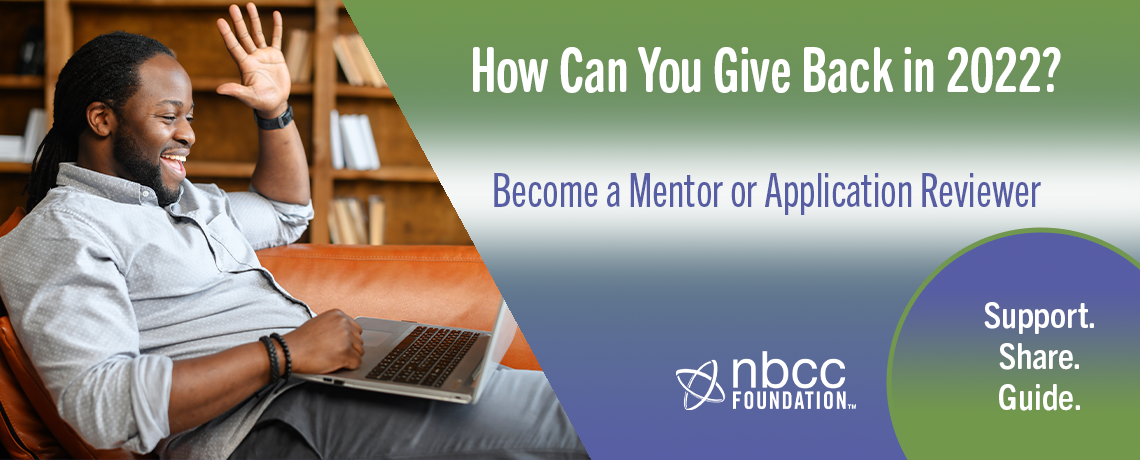 The NBCC Foundation relies heavily on the support of National Certified Counselors to serve as volunteers to help sustain Foundation programs. Volunteer application reviewers and mentors are essential to Foundation programs, as they allow donations to go directly to fund scholarship and capacity-building programs and contribute diverse perspectives to the various Foundation programs. A unique aspect of current Foundation volunteer opportunities is that they are all available as remote or virtual opportunities.

Last year, Foundation volunteer mentors provided over 1,600 hours of mentoring to scholars and fellows through direct connection and regular communication as a part of the NBCC Foundation scholarship program and the NBCC Foundation Minority Fellowship Program (MFP).

Connecting students with a professional counselor mentor increases their connection to the counseling profession and allows the student a space to grow in self-discovery as well as challenge themselves to achieve goals and ambitions they set for themselves during their program year with the Foundation and beyond. Jeff, a 2020–2021 NBCC Foundation military scholarship recipient shares, "My mentor's insight and constructive feedback really helped open my eyes to what I can expect and different approaches to take with different types of clients."

Year after year, Foundation fellows and scholars report that behind the financial support their fellowship or scholarship brings, the next most influential part of their program year is connecting with their professional mentor. Mentors serve as professionals who can help guide them on their own journey through school and as they work to become better counselors-in-training.

NBCC Foundation mentors serve 1-year commitments and are matched with an NBCC Foundation scholar or fellow who is a master's- or doctoral-level counseling student already working with or committed to working with underserved communities after graduation.

Volunteer mentors are needed to cultivate a strong professional relationship and support the student in achieving their previously identified goals as a part of their Foundation program year. When possible, mentors are matched with their mentees based on previously identified areas of experience or expertise, research interests, or by underserved communities or individuals served (e.g., Latinx, Black, Indigenous, Asian, veterans, children, seniors, LGBTQIA2S+, rural communities).

The Foundation also depends on volunteer application reviewers who perform important initial evaluation and scoring for scholarship and fellowship applications. As the price of higher education continues to rise, more students rely on scholarship and fellowship opportunities to help offset the cost of school. This often results in hundreds of applications for Foundation scholarships or fellowships, which are scored by volunteer reviewers who use a pre-determined rubric to evaluate and help narrow selections for final awards to be given.

Application review periods are completed entirely online through a secure application portal. Online training by NBCC Foundation staff is also provided to ensure a new reviewer is comfortable with the platform and process. Review periods typically last 2 weeks and a reviewer averages just 8 hours of review time. Volunteer reviewers can commit to just one application review period or can continue to review during each application cycle (typically in January/February and again in August/September).

Foundation volunteer reviewers or mentors must be National Certified Counselors to review military, rural, research, or Minority Fellowship Program applications. Professionals who hold a Center for Credentialing & Education (CCE) credential may also review applications for annual CCE training awards administered by the NBCC Foundation.

Applications for volunteer mentors and application reviewers are accepted year-round, and training is available for new volunteers with refresher training available for those returning to serve after taking time away.

To learn more about available volunteer opportunities, visit the Foundation's volunteer webpage. You can also visit the online application to apply today!

Questions? Email Foundation@nbcc.org to connect with our Volunteer Coordinator, Brandice Bell.

Share! Do you know other counselors who want to give back their time as a valuable resource to help shape future counselors? Share these opportunities with them today!