 Fellow Training Helps Build Community
Published 10/12/2022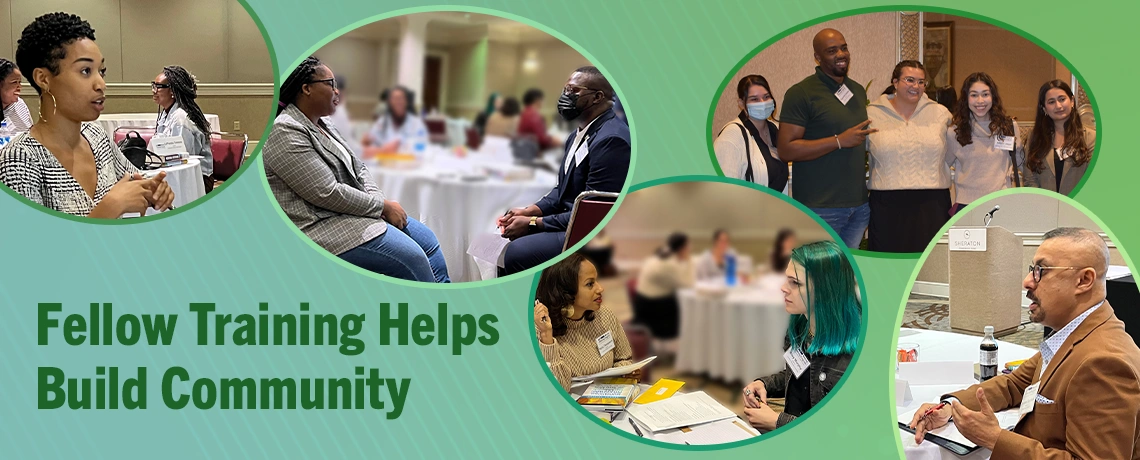 As Hurricane Ian moved into the Carolinas earlier this month, master's students who are members of the 2022 NBCC Minority Fellowship Program (MFP) were scheduled to travel to Greensboro, North Carolina, to engage in a 2-day training on Motivational Interviewing (MI) as a part of their MFP. After many flight cancellations and delays, 26 of the 40 fellows from this cohort were able to join together as a part of the annual Fall Institute training, which focuses specifically on MI, a technique used to elicit behavioral changes in someone as a result of them exploring their own reasons or motivations for wanting change.

This training weekend has been a staple part of the professional development and training opportunities provided for the NBCC MFP Master's Mental Health Counseling Fellows since 2017. It also provides an opportunity for this cohort of MFP Fellows to have dedicated space and time for networking and bonding because during their program year and beyond, they live throughout the country. Fifteen of the 26 fellows who attended were also able to travel in a day early and have additional bonding time during lunch and a visit to the International Civil Rights Center & Museum located in Greensboro.

Dr. Ed Wahesh, an associate professor of counseling at Villanova University and a member of the Motivational Interviewing Network of Trainers, provided this training for the MFP Master's Fellows for the fifth consecutive year, which included the last two years in a virtual setting due to widespread travel restrictions related to the pandemic. "We love having Dr. Wahesh here for the Fall Institute. He is always a favorite for the fellows to engage, and he brings an immense amount of experience with MI as well as with teaching that is incredibly beneficial for our fellows," said Isabel Gomez, Vice President of the Foundation and Professional Resources Division of NBCC and Affiliates.

For fellows, the MFP award does not just include money for their education, but it also offers opportunities for professional development and one-on-one mentoring as well as more specialized training, such as the MI training, during their program year.

Karla Campos, a current MFP Fellow and master's student at Northwestern University, shares, "Prior to the MI training, I did not know much about it. I only knew that it was an approach utilized with substance use populations, but that was it. After having attended the training with Dr. Wahesh, I feel much more equipped as a therapist-in-training to help my clients create and navigate change. I found the MI spirit to be very similar to and compatible with the pillars of multiculturalism and social justice."

Shyam Suchak, another master's MFP Fellow who is currently a student at Spring Arbor University, shared that "As someone that prefers the person-centered theoretical foundation, MI aligns very well with the basic principles. I will be able to use a collaborative approach to evoke transformational need within the client."

For Karla, and many of the fellows from her cohort, this weekend's training was the first opportunity to meet in person since being awarded the fellowship in May. She says, "It was a very emotional and grounding experience to be surrounded by individuals who also take personally the work of growing and changing the direction of our field. I got to connect with amazing people, and we are even talking about collaborating together in the near future."

Not only does the MFP exist to equip and support counselors-in-training who are committed to working with underserved and underrepresented groups after they graduate, but most MFP Fellows also belong to or identify as part of an underserved demographic. Therefore, it is an important aspect of the program to help cultivate connection and a safe space for them.

Dr. Amber Khan, Program Director for the NBCC Foundation, shares that part of the importance of the MFP is that it "allows opportunities to amplify the voices and experiences of our fellows, who often belong to underserved communities themselves, and also provide an opportunity to strengthen their skills and confidence in a unique manner."

When asked about his MFP experience so far, Shyam, who was able to meet part of his cohort in person in June at the NBCC Foundation's Bridging the Gap Symposium, shares, "It started with the Symposium where I was exposed to some great information and people who helped me understand my responsibilities as a counselor. It offered me the space to be myself and show up as a whole person that did not have to compartmentalize my life to feel accepted. For me, this fellowship has been life changing."

MFP Fellows go on to work in a variety of capacities in the counseling profession and all of them are in some way serving and advocating for groups of people or communities that are historically underserved and underrepresented, including with access to culturally responsive mental health care. While in school, many MFP Fellows are the only people of color or openly LGBTQIA2S+ individuals in their university program. Spaces like the MFP help bring together others with shared identities and help provide advocacy, collaboration, and support.

The NBCC Foundation looks forward to providing opportunities for in-person engagement with the fellows each year, which are framed by attendance at the Bridging the Gap Symposium at both the start and end of their program year.

Currently, applications are being accepted for the 2023 MFP award year. A total of 90 fellowships are available for master's-level mental health counseling students, master's-level addiction counseling students, and doctoral counselor education students.

Award amounts for NBCC MFP fellowships range from $10,000–$20,000 for educational support and include paid travel and expenses to specific conferences and trainings during the program year as well as a mentor pairing with a seasoned counseling professional.

The application period for NBCC MFP fellowships runs through Dec. 31, 2022, with awardees being notified in March 2023.

To learn more about specific eligibility requirements and to apply, visit nbccf.org/programs/scholarships.