 Fellow-led Giving Circle Seeks to Support Undocumented Counselors-in-Training
Published 1/14/2022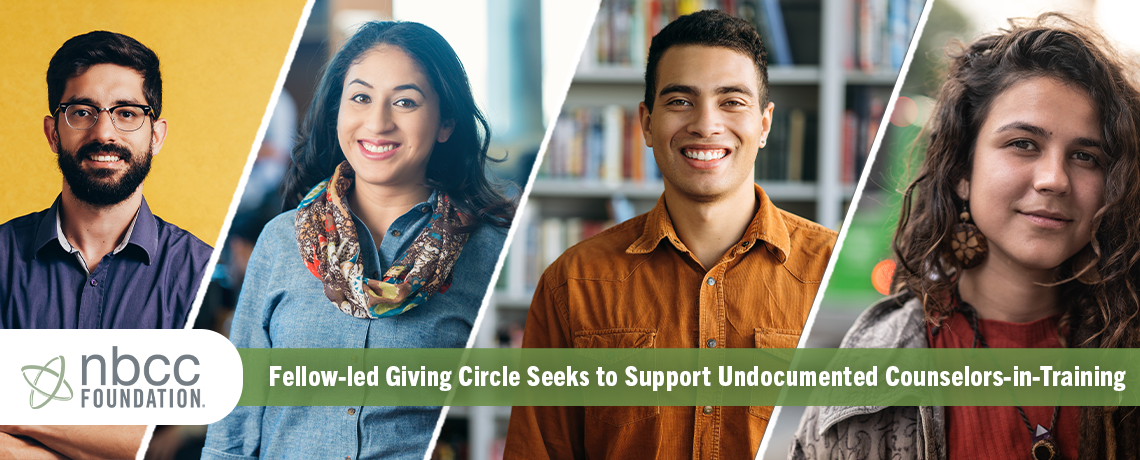 When three Latinx PhD candidates get together, there's bound to be an abundance of ideas that flow. This certainly is the case for 2021 Minority Fellowship Program (MFP) doctoral fellows Pamela Fullerton and Diana Gallardo, who, along with 2020 doctoral fellow Kirsis A. Dipre, have decided to advocate for a specialized group of future counselors in a unique way.

What began as a passion to support undocumented counseling students has quickly grown into a concrete plan of action for Fullerton, Gallardo, and Dipre to raise scholarship funds that will be awarded to an undocumented or Deferred Action for Childhood Arrivals (DACA) recipient who is also a graduate student in counseling or counselor education.

The idea sparked when these three MFP Fellows attended the 2021 ACES Conference in Atlanta, Georgia, and had their first chance to connect in person as a group. Each year, current NBCC MFP doctoral fellows attend this training to network and learn more about the counselor education field. At this year's conference, MFP Alumni and Advisory Council members held a training for the 2021 cohort and spoke about ways to connect with others in this arena and what they could expect after graduation and moving into the counselor education space.

This setting also allowed NBCC Foundation staff to share opportunities for these fellows to be involved in after their fellowship year ends and after they graduate, which include serving as a volunteer or later going on to serve on MFP Advisory Councils or boards.

Another way that MFP Alumni and others have given back to the counseling profession has been through forming NBCC Foundation Giving Circles. These are peer-to-peer fundraising efforts that help raise scholarship funds to award counseling student scholarships through the NBCC Foundation.

The idea behind the Giving Circles is for the creators to share with their own personal or professional networks and encourage both one time and monthly sustaining donations. These donations go directly to fund a scholarship over time for a counseling student working to provide services to underserved communities.

The Giving Circle creators are also able to decide if they would like the funds to go to a student who already works or intends to work after graduation with military or rural populations, which are two previously established scholarships awarded through the NBCC Foundation. However, if the Giving Circle creators have a more specific or specialized award they would like to fund, they can identify another type of scholarship that aligns with the mission and vision of the NBCC Foundation to expand mental health services and increase counselors working with underserved or never-served communities.

The "A Dream Decided" Giving Circle does just that. It exists to support the future work of undocumented graduate students in counseling through financial support of their educational journey. Fullerton, Gallardo, and Dipre chose to advocate for this group through an NBCC Foundation Giving Circle because of the support they received from the NBCC Foundation and through the Substance Abuse and Mental Health Services Administration (SAMHSA)–funded MFP.

Based on an updated March 2021 report from New American Economy and Presidents' Alliance on Higher Education and Immigration, there are over 400,000 undocumented students currently enrolled in higher education in the United States. Because of this, Fullerton, Gallardo, and Dipre, are seeking to help ease the financial stress that comes with graduate school costs, especially for undocumented students, who are often unable to qualify for certain types of financial aid.

As advocates for the counseling profession as well as for underserved communities, Fullerton, Gallardo, and Dipre are passionate about making sure that all who desire to work as future counselors or counselor educators are afforded the opportunity, no matter their circumstances.

Although Dipre and Gallardo knew each other before being a part of the MFP from their master's programs, once all three fellows met in person at the ACES Conference, they quickly knew they shared many of the same ideas and goals as Latinx students in counselor education and supervision programs.

Fullerton shares, "We immediately connected and discussed our experiences as Latinas in the field of professional counseling and counselor education. When I brought the idea of this scholarship to them, they were immediately on board." Gallardo and Dipre likewise share that it's their Latinx identity that truly united them, as they don't often see many others from this community in counselor education programs.

By creating this scholarship, they are also working to ensure that there are culturally competent counselors available to bridge the gap for a variety of individuals and communities who lack access to needed mental health services.

The "A Dream Decided" Giving Circle launched in December 2021, and its creators are working to share this opportunity with their networks and with others who feel a connection to support this advocacy for undocumented counseling students. Their goal is to initially raise $8,000 to fund a full NBCC Foundation scholarship for a future applicant and once met, continue to raise funds for additional scholarships in the future. If you would like to donate to the "A Dream Decided" Giving Circle to support this scholarship, you can do so online.

Once a Giving Circle scholarship is funded, information will be announced about upcoming application opportunities for students who may fit the eligibility requirements for specialty awards.


The next NBCC Foundation scholarship application cycle is set to open in May 2022. For more information about upcoming scholarship opportunities for counseling students and professionals, please visit nbccf.org/programs/scholarships.