 NBCC Foundation Welcomes Dr. Amber Khan as Program Director
Published 1/21/2021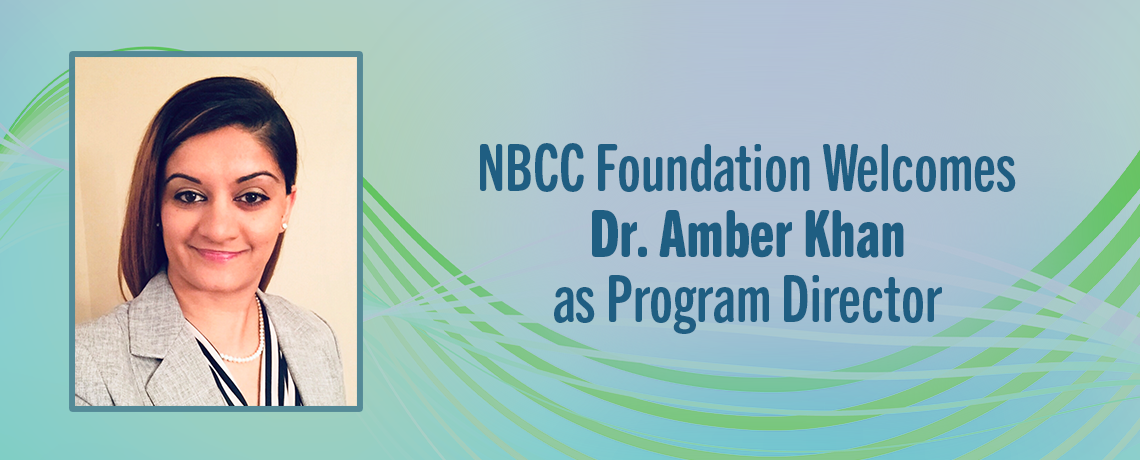 The NBCC Foundation welcomes Amber Khan, PhD, NCC, LCMHC, as the new Program Director for the NBCC Foundation.
Dr. Khan is a National Certified Counselor (NCC), a Licensed Clinical Mental Health Counselor (LCMHC), and holds a North Carolina School Counseling License. She earned a bachelor's degree in psychology from the University of North Carolina at Greensboro. Dr. Khan then earned a master's degree in school counseling and a PhD in rehabilitation counseling and rehabilitation counselor education from North Carolina Agricultural and Technical State University. While earning her PhD, she completed a two-year doctoral assistantship with NBCC's International Capacity Building Department. Prior to being named the NBCC Foundation Program Director in December 2020, she worked in NBCC's Assessments Department as a Content Development Manager, where she managed various aspects of the examination development process, and more specifically, the training and recruitment of item writers and subject matter experts.

Dr. Khan has a combined eight years of experience in higher education and in the counseling profession. She is an active member of the American Counseling Association (ACA), the Association for Multicultural Counseling and Development (AMCD), the North Carolina Counseling Association (NCCA), the Asian American Psychological Association (AAPA), the National Career Development Association (NCDA), Association for Counselor Education and Supervision (ACES), and the Southern Association for Counselor Education and Supervision (SACES). In addition to a strong dedication to the counseling profession, Dr. Khan has years of experience in advocacy and community service work, specifically serving international, immigrant, and refugee communities, and for the last seven years, she has served on the executive boards of several local non-profit organizations. Dr. Khan is a first-generation immigrant and in her role as Program Director, she looks forward to continuing to bridge the gap in access to mental health services for communities and populations most in need through the work of the NBCC Foundation.

Here, Dr. Khan answers a few questions about her career journey.

What motivated you to become a counselor?
Around the time when I first pursued the counseling profession, I recall saying the cliché term, often stated by many other professionals in this field, "I want to help people." At that time, I also recognized the lack of diversity in this field. Much like many other cultural and ethnic minority communities, there was an absence of mental health awareness among those from my own cultural background. I also studied psychology as an undergraduate student and always had a strong interest in better understanding human behavior and emotional wellness. The counseling profession was an ideal fit, and over the years it has allowed me to combine various aspects of teaching, advocacy, consulting, research, and writing. The most remarkable aspect of counseling is that it has the capacity to truly empower individuals and provide guidance towards healing and change. Eight years have passed since that initial point of when I entered the profession, and we are still making progress towards destigmatizing counseling and mental health. I am grateful to be a part of this profession and to continue to add my voice to the process.

What is one area of the profession that is of particular interest to you?
Trauma is an area of mental health counseling that shifted my perception and practice of counseling. For counselors to recognize the long-lasting impact that trauma can have on an individual's life can also provide insight into best practices for treatment. In the past, I researched this area and have implemented knowledge and awareness into my own practice as a counselor and educator. I hope to bring greater awareness of the impact of trauma through the work that I will be doing at the NBCC Foundation.

What makes you most excited about working with the NBCC Foundation?
The NBCC Foundation continues to shift the narrative by providing the resources that allow counselors to serve those who are most underserved in our communities. I am enthusiastic to be part of an organization that provides the capacity to combine my passion for advocacy with skills in professional development. I am looking forward to building bridges that will continue to bring excellent resources and programming to the organization.