 MFP Fellow Spotlight: Brittany Prioleau
Published 3/23/2021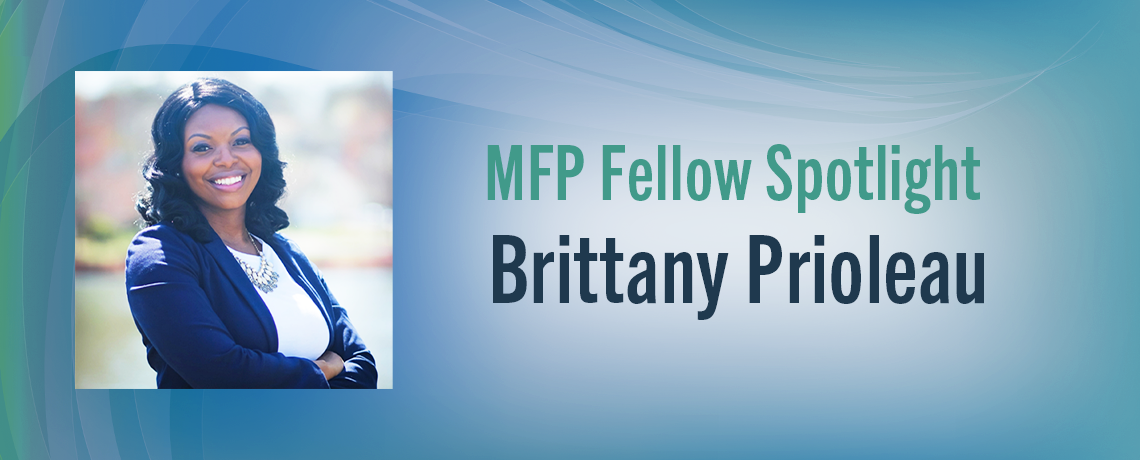 Brittany Prioleau began her journey with the NBCC Foundation when she received the inaugural Global Career Development Facilitator (GCDF) scholarship in 2012 through a newly established collaboration between the NBCC Foundation and the Center for Credentialing & Education. The goal of this award is to increase the number of counselors providing career guidance and development services as a part of their practice. Receiving this award to obtain the GCDF credential, while also completing her master's in clinical mental health counseling, was one of the many steps taken along her journey.

Today, Brittany is close to completing her PhD in counselor education and supervision, was named a 2020 NBCC Minority Fellowship Program Doctoral Fellow, and works to advocate for trauma-informed and culturally responsive mental health services for all.

For Brittany, life has always been about service to others. She shares that her childhood was always focused on helping others, an influential mindset established early in life by her late mother. Even as a young fifth grader, Brittany remembers wanting to be a helping professional, and this foundation has continued to impact her life and shape who she is today.

During her undergraduate career at the University of South Carolina, Brittany participated in the McNair Scholars Program, which aims to prepare students to attain doctoral degrees by participating in research and scholar-based programs. As a McNair Scholar, she worked with underserved African American girls in surrounding communities in South Carolina and began to more closely view disparities experienced by youth and adolescents from these communities.

As an undergraduate student majoring in psychology and Spanish, she also connected with a group of Black female psychologists who served as mentors to her and others in her university's program. It was this group of influential clinicians and educators in her life who had a tremendous impact on her and encouraged Brittany to continue her education and obtain a master's degree.

Because of her experience working with many different underserved populations, Brittany has continued to find paths that merge her desire to work with youth and career development with mental health. After earning her MEd in clinical mental health counseling, she worked for several years in Washington, D.C., in youth and rehabilitation services as well as with D.C. Public Schools as a bilingual school counselor. It was also during this time that she more fully discovered the need for herself and others in the field to gain more knowledge on trauma-informed care, especially when working with underserved communities facing disproportionately higher amounts of trauma.

As she began her doctoral program in 2018 at the University of North Carolina at Charlotte (UNC Charlotte), Brittany began focusing her research and work on trauma-informed care as well as examining effects of racial stress and trauma. Her vision is to see a flood of culturally competent and inclusive counselors serving in all communities and promoting multicultural wellness counseling. She shares that this is what propels her to keep going as she continually realizes there is much more work to be done in this area.

As Brittany reflects on her journey to this point and works to map out her next steps, she shares an experience that has helped her come full circle from her undergraduate career to today. In her first year as a doctoral student, she had the opportunity to help start the College of Education Student of Color Affinity Group at UNC Charlotte. This group, which meets monthly, provides a safe space for minority students to share about their stories and journeys as they navigate spaces, such as being students in primarily white institutions. They also share about the importance of mentorship, which was a catalyst for Brittany choosing to continue her education—the encouragement and guidance of her past mentors.

While completing her doctoral program, she has also been providing bilingual counseling services to students in Charlotte area schools. After earning her PhD, she hopes to continue teaching and researching, while also working to provide the culturally responsive and trauma-informed care she so deeply sees as a need for underserved communities, especially in many urban school settings.

In addition to being a bilingual counselor with career development expertise, Brittany holds certifications in integrative services and has experience incorporating mental health and nutrition. In the future, she also plans to open her own practice that focuses on integrated holistic wellness approaches for minority communities, including incorporating mind–body therapy, yoga, nutrition, and spiritual healing, while still focusing on trauma-informed approaches.

In June of 2020, Brittany gave her first national conference presentation during the virtual 2020 NBCC Foundation Bridging the Gap Digital Experience on the topic of "Beyond the Belt: Examining Alternative Approaches to Child Disciplinary Practices in Minority Communities."

Reflecting on her fellowship opportunity, she shares that she is grateful for her experiences and opportunities through the NBCC Foundation and the Minority Fellowship Program, as her fellowship has allowed her to be able to focus on completing her degree while engaging in additional professional development and networking opportunities.

She has also enjoyed connecting with other fellows and alumni who share similar passions in working to bring about holistic healing and care for those they serve. Brittany hopes to herself serve as a mentor to future counselors one day and help her future students become culturally competent counselors serving all minority and underserved communities.