 MFP Fellow Reflects on Symposium
Published 10/19/2021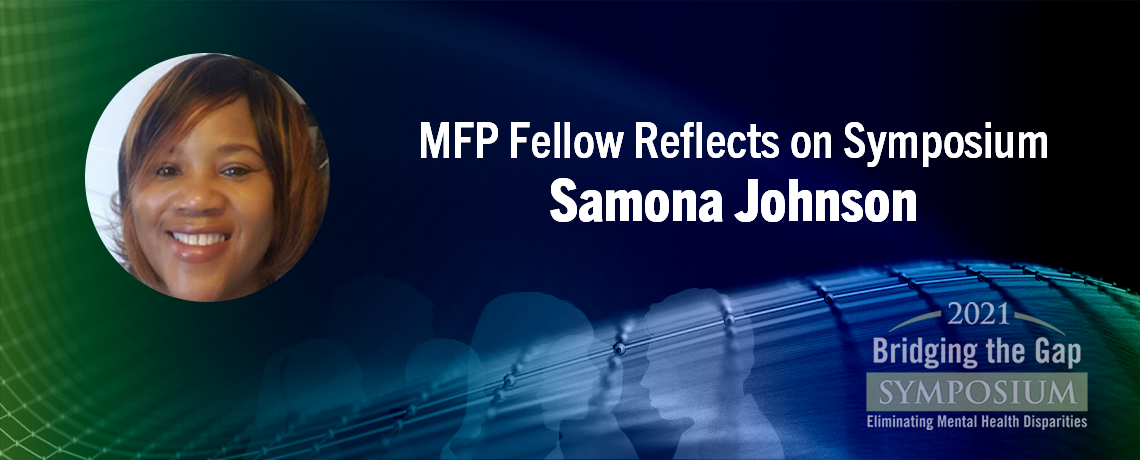 Samona Johnson is a master's student in the clinical mental health counseling program at John Carroll University in Cleveland, Ohio. She is due to graduate in December 2021 with her MA and with a focus in substance use disorders. She currently operates a veteran's home and intends to always work in some capacity with veterans. During her practicum and internship, she found a true love working with children and families and is currently interning as a school-based counselor at a level 4/5 school. Because of this experience, she has directed more of her education and training to the area of child development and family counseling. Upon graduation, she plans to open a child development and family center that also serves teen girls.

My entire experience with the NBCC Foundation as a Minority Fellowship Program Fellow has been a blessing as well as an emotional and educational journey. The style and manner in which the staff closed out the 2020–2021 Fellowship year with the Symposium was at a presidential level. From the warm welcome to the touching closing workshop, attendees were engaged and educated by some of the finest in the counseling profession.

Experts in their own right and at the top of their specialty, each presenter and speaker offered unique deliveries of their subject matter. Many included within their delivery an encouragement of an entrepreneurial mindset and culture. Though we were virtual, the passion and dedication came through in each person.

One highlight for me was Friday's keynote speaker, Kiaundra Jackson, speaking on the topic of "Unveiling the Unseen: If They Only Knew the Real You." Her presentation speaks for itself as to why she is known as America's #1 relationship therapist. She "brought the brass," meaning the sympathetic vibration of air. If you were not awake at the start, you were when she finished. Her presentation resonated with authenticity of being in the now and explored the benefits of entrepreneurship. It is impressive that at such a young age she is such an accomplished author, Licensed Marriage and Family Therapist, and successful TV personality. Her words really lit a fire under me.

Another favorite presentation I attended was "A Postpartum State of Mind" from Patience Riley. She presented staggering data related to postpartum depression and anxiety during the fourth trimester, including that Black women are twice as likely to experience postpartum depression than their White counterparts. Yet, despite this knowledge, Black women are still not being educated, treated, or provided follow-up care to the extent that White women are to reduce their risk for or their response to mental health disorders during their postpartum months. This presentation also tied in well to my education related to early childhood mental health in which we have extensively covered postpartum topics.

Many of my MFP Fellow peers also shared that they were inspired and encouraged by Dr. Jason Branch, who gave an inviting keynote on Tuesday about being a person of color in the counseling profession and how to navigate this space, celebrate our differences, and implement effective self-care along the journey.

Several also listed Jonathan Yellowhair among their favorites. He presented on how we as clinicians can stay true to our cultural identify and values while still helping others and encouraging clients to advocate for their own identifies. One cohort member in particular said these two presentations were "lit" and "they showed up and showed out."

Throughout the entire week of the event, participants were informed, educated, and trained. Souls were fed, networked, mentored, liberated, and we were presented with a rejoiceful time and space. This encouragement came at a time when it was needed the most, as we have been engaging in our Fellowship over the last 18 months from a distance and through screens.

A million times over thank you so much to the NBCC Foundation for not only enlightening, educating, and uplifting my career advancement, but more importantly feeding my soul, and in return, my life, so that I am equipped to go out and pay it forward to make the lives of others just a little bit better. Please keep up the great work, and I look forward as an MFP Fellow Alumna to remain an active member of the NBCC Foundation family.

Applications for the 2022 Minority Fellowship Program awards are currently open through Dec. 15, 2021. Ninety (90) doctoral- and master's-level counseling fellowships are available, ranging from $10,000 to $20,000, and all awardees also receive a sustainability package that includes access to mentors, professional resources, and much more.

For more information and to apply, visit nbccf.org/programs/scholarships.