 Join the 8-for-8 Challenge and Bridge the Gap!
Published 7/20/2021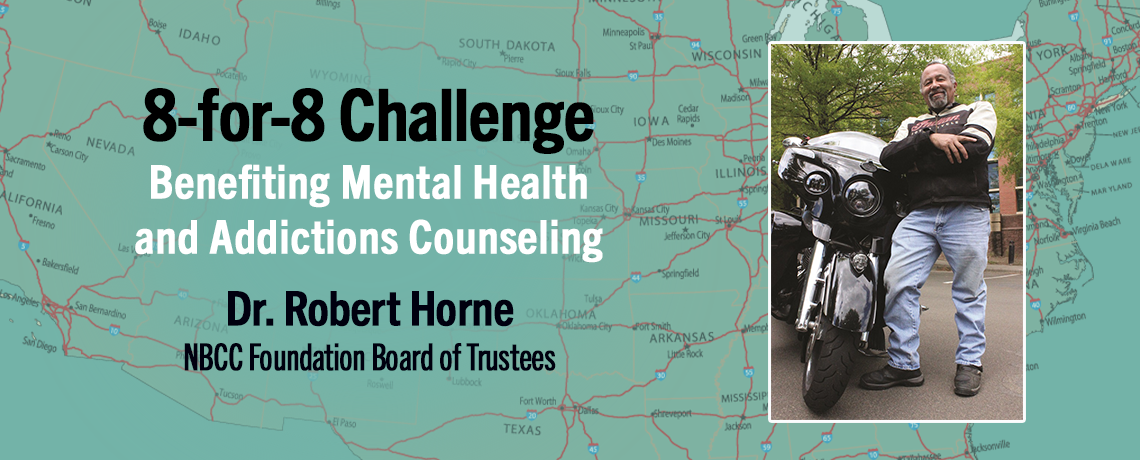 In 2017, Dr. Robert A. Horne, an alumnus of the NBCC Minority Fellowship Program, longtime NBCC Foundation volunteer, and a current NBCC Foundation board of trustees member, embarked on a 10,000-mile solo motorcycle ride to promote mental health and addiction awareness. It was his goal to circle the United States and visit counselors and counseling facilities in small towns and on military bases to gain an idea of the needs and resources offered in rural communities, on military bases, and in some metropolitan areas.

Dr. Horne, who serves as an assistant professor of counselor education and Director of the Addiction Studies Certificate Program at North Carolina Central University, shares that when looking at the reasons many people do not seek and/or receive professional treatment for mental health and addiction disorders, two things immediately come to the forefront: 1) the stigma surrounding mental health and addiction disorders; and 2) the availability of professional services, specifically in rural and underserved communities.

With hopes to bring about more awareness and support conversations around mental health and additions counseling, Dr. Horne contacted the NBCC Foundation to propose a second ride for summer 2020. This would be an 8,000-mile solo motorcycle ride that would circle most of the United States and focus on visiting and talking with counselors and others about mental health and addiction services and education in rural, underserved, and Indigenous communities.

With the onset of the COVID-19 pandemic, however, his ride was postponed until summer 2021 to also include the 8-for-8 Challenge. Dr. Horne recently completed an 8,000-mile ride and is asking others, specifically counseling professionals and counseling students, to donate $8 to the NBCC Foundation to fully fund an $8,000 scholarship for a master's-level counseling student who commits to serving at least two years post-graduation in a rural or military community. It is Dr. Horne's hope that those who donate $8 will ask eight other people to donate $8 and so on.

On July 7, Dr. Horne embarked on this 8,000-mile journey, and though some original stops were thwarted due to unsafe conditions from Hurricane Elsa, he completed a stop in Lubbock, Texas, with MFP alumnus and newly named NBCC Foundation board trustee Dr. Chris Townsend. There, Dr. Horne had the opportunity to engage with the community where Dr. Townsend works and share his desire to continue breaking down the stigmas associated with seeking mental health treatment and services for many populations. He also had the opportunity to connect with members of the Navajo Nation and other groups along his ride back home to North Carolina, which he completed in early August.

When asked why Dr. Horne would create and take on such a challenge, he shares:

"My reasons are simple; first, I lost a child due to someone else's substance abuse, and I still live with the pain of the experience and the feelings of helplessness that are associated with it. Second, for the past year I have been caring for a loved one who is in the last stage of Alzheimer's Disease. This has been life- and career-altering, and it has only been with the help of my family, and the support of friends and the Alzheimer's Association that I have been able to navigate the situation. As such, I am compelled to do what I can to make a difference in the overall well-being of individuals and families with substance use concerns. I hope others will choose to make a difference and support the 8-for-8 Challenge."

All donations made to the NBCC Foundation are tax-deductible, with 100% of proceeds going directly to scholarships for master's-level counseling students committed to working with underserved military or rural communities after graduation.

As an additional part of the 8-for-8 Challenge, a generous anonymous donor has committed to matching donations up to $8,000 to fund an additional master's-level scholarship. The anonymous donor will match donations up to $8,000 made through August 31.

"Dr. Horne is an incredible example of an advocate for the counseling community, especially for communities of color and those facing substance abuse and other mental health disorders," says Isabel Gomez, Vice President of the Foundation and Professional Services Division of NBCC and Affiliates. "He covers 100% of his riding expenses during his trip and as a part of this challenge, and we are thankful to have him as an advocate for the Foundation and our programs that help bridge the gap in mental health services for so many."

Dr. Horne says that he "considers it a privilege to support the Foundation's efforts to bridge the gap in mental health services for underserved and never-served populations and is happy to participate in this adventure and raise awareness in these communities."

He also extends a special thanks to the following organizations: the National Board for Certified Counselors Foundation; Capital City Indian Motorcycle Riders Group and its sponsor, Garcia Moto Indian Motorcycle Dealership in Raleigh, North Carolina; and the North Carolina Central University Counselor Education Program.

You can follow Dr. Horne's ride on his personal Facebook page as well as through updates on the NBCC Foundation's 8-for-8 Challenge Facebook fundraiser.

Tax deductible donations can be made through three easy methods, with 100% of donations directly supporting scholarship funds:
Online via the

Facebook fundraiser page

.

Online via the Foundation's

secure online donation form

(Please provide a note in the gift comments section: "8-for-8 challenge"), or

By mailing a

printed donation form

with a check or money order to: NBCC Foundation, PO Box 63160, Charlotte, NC 28263-3160.