 Forty Under 40 Honors Foundation Staff Member
Published 3/23/2021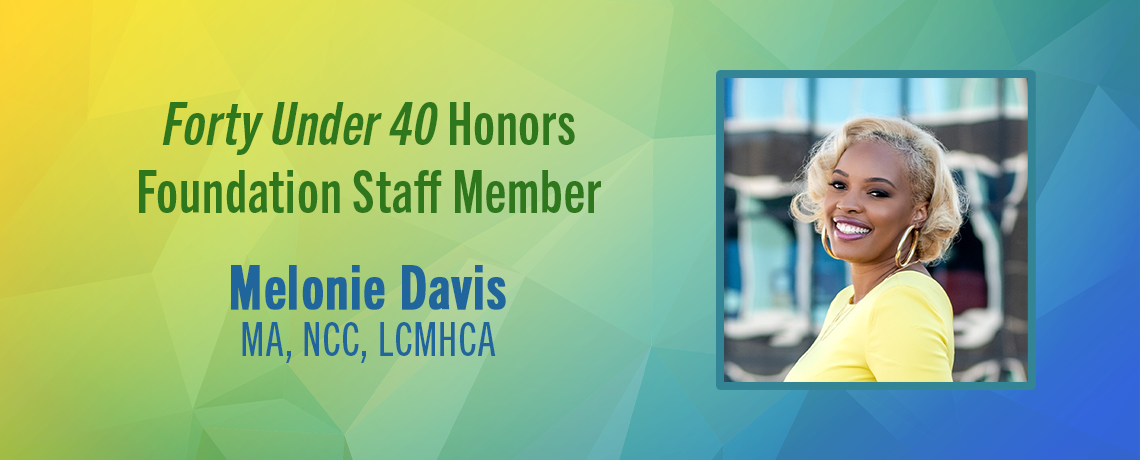 Melonie Davis, Program Manager at the NBCC Foundation, recently received a Forty Under 40 Alumni Award from the Winston-Salem State University (WSSU) Young Alumni Council. The Forty Under 40 Awards program seeks to identify alumni age 40 or younger who have demonstrated significant contributions in their respective fields. Recipients also fundraise to support scholarships at WSSU.

Melonie is a 2006 graduate of WSSU with a bachelor's degree in recreation therapy, dedicating her time to the community by providing mental health services to children and adults with developmental disabilities. She earned her MA in clinical mental health counseling from Wake Forest University. She is currently a board certified counselor and works closely with the Minority Fellowship Program and NBCC Foundation Scholars.

She aims to actively provide guidance support for future counselors to develop professional identity and increase diversity in the profession. Her mission is to live a life with integrity and empathy, be a positive force in the lives of others, use her creativity and positivity to better the lives of those around her, inspire others and be inspired, be a successful leader and gain a better understanding of how the world works, and accomplish her life goals by working together in harmony with others.

Melonie will be honored with the other Forty Under 40 recipients during a gala held later in 2021. Below, she answers a few questions about her journey.

Why did you become a counselor and how did you decide to go into this field?
Between 2013–2014 I was a parent volunteer at my son's school. I worked closely with his school's guidance counselor. I was able to observe a lack of connection between student needs and an understanding of cultural competence. I had been working in mental health services for about eight years at that time. I decided to return to school to obtain my master's degree and become a licensed counselor in order to help address what I believed was a gap in services.


What has been one highlight of your counseling career and journey in this field?
Meeting all of the people I have had the privilege of connecting with over the years. Learning from my mentors and being able to help people gain understanding and insight has also been a highlight, while continuing to learn and grow professionally and personally.


What was the most memorable time or event from your time at WSSU?
It's hard to think of one specific time. The experience overall has helped shape me and how I view the world. I have lifelong friends from my time there. I think those are the things I cherish most—the relationships.


What does it mean to you to receive this honor from your alma mater?
It means so much to me. The university's motto is "Enter to learn, depart to serve." I have tried to uphold that model the best I can. While everything I do is always from the heart and not for any sort of recognition or award, it always feels good to be seen and acknowledged by those I respect. I hope that my work can inspire others to be agents of change in their communities as well.


What is one hobby or interest you enjoy that many may not know about?
I like to bake! Not to brag, but I'm good at it. I can make the best poundcake you will ever eat. I've never seen one of my cakes last longer than a day. So yeah, that's a challenge for all the bakers we have at NBCC!