 Congrats to 2022 Minority Fellowship Program Fellows!
Published 5/10/2022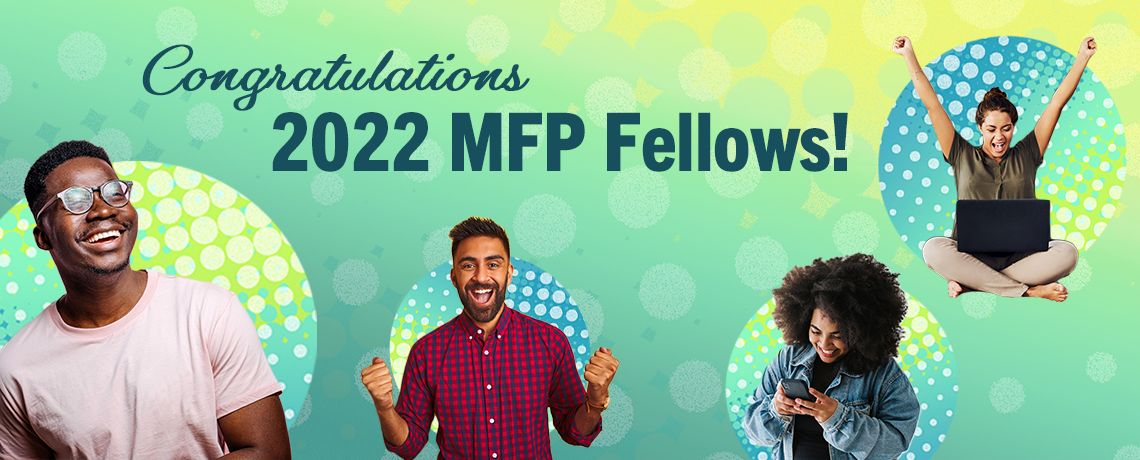 The NBCC Foundation is pleased to announce the 2022 fellowship recipients for the National Board for Certified Counselors Minority Fellowship Program (MFP). One hundred and thirteen fellows were selected from over 540 applicants to represent three cohorts of fellows: master's-level mental health counseling, doctoral-level mental health counseling, and master's-level addictions counseling.

The goals of the program are to strengthen the infrastructure that engages diverse individuals in counseling and increase the number of professional counselors providing effective, culturally competent services to underserved and never-served populations. Each fellow will receive funds to support their education as well as training, mentorship, and professional development services.

Because of additional funding granted to the NBCC Foundation, this year's cohorts total 113 fellows, 23 more than previous years. This marks the largest year of MFP fellows since NBCC was awarded the MFP grant in 2012. Since NBCC began the counseling MFP with the first cohort in 2013, there have been 792 MFP counseling fellows awarded and a total of over $10.8 million invested in the educational support, training, and development of mental health counselors, addictions counselors, and counselor educators.

The NBCC MFP is made possible by a grant awarded to the NBCC Foundation by the Substance Abuse and Mental Health Services Administration (SAMHSA), and the NBCC Foundation also collaborates with NAADAC, the Association for Addiction Professionals, to administer the addictions counseling fellowship program.

Congratulations to our 2022 MFP Fellows!

2022 MFP Doctoral Mental Health Counseling
Jamal Boudion, University of Holy Cross
Carlos Jesus Castañeda Jr., Texas Tech University
Nkenji Clarke, The Pennsylvania State University
Kashon Corley, University of the Cumberlands
Ashley Davis, Pace University
Sravya Gummaluri, The George Washington University
Jodi Jarrett, University of North Texas
Chulyndria Laye, University of Arkansas
Harley Locklear, North Carolina State University
Jorge Lopez, Idaho State University
Hailey Morris, University of North Texas
Lien Nguyen, Texas A&M University - Corpus Christi
Mónica María Phelps-Pineda, University of Missouri - St. Louis
Javier Ponce, Florida Atlantic University
Zonovia Proctor, University of Central Florida
Avery Rosser, University of Georgia
Afroze Shaikh, Georgia State University
Sunanda Sharma, Montclair State University
Helen Starkweather, The George Washington University
Jennifer Stover, Sam Houston State University
Alonzo Turner, Syracuse University
Krystal Turner, University of North Texas
Rebecca Werts, University of North Texas
2022 MFP Master's Mental Health Counseling
Mabel Amara

, College of William and Mary

Raven Ayele

, Roosevelt University

Aaruba Ayesha

, Boston University

Victoria Bangaree

, Hofstra University

Natalie Bartlett

, Jacksonville University

Mariana Boden

, Seattle University

Karla Campos

, Northwestern University

Nadia Chaudhary

, Northwestern University

Matilda Dada

, Antioch University

Jyotsna Dhar

, Northwestern University

Keyonte Easter

, Gardner-Webb University

Caitlin Fair

, Rider University

Kayla Fointno

, Oklahoma State University

Rachel Jacobs

, The University of North Carolina at Pembroke

Antonique Jones

, North Carolina State University

Rafael Joseph

, West Virginia University

Allison Joyal

, Texas A&M University-Corpus Christi

Keonna Knight

, Virginia Commonwealth University

Shoua Lee

, California State University, Fresno

Michelle` Louis-Jean

, Roosevelt University

Megan Mancini

, Portland State University

Kim Mena

, Liberty University

Riley Murphy

, Northern Kentucky University

Kevin Overton-Hadnot

, Seminary of the Southwest

Sehar Palla

, Johns Hopkins University

Ernesto Pequeño

, University of Texas Rio Grande Valley

Tania Perez

, Marymount University

Marilyn Quintero

, North Dakota State University

Estefani Reyes

, Sam Houston State University

Angela Reyes

, Portland State University

Amaury Rodriguez Penilla

, Colorado State University

Romina Romero-Hermoso

, Antioch University-Seattle

Samaria Stovall

, Colorado Christian University

Shyam Suchak

, Spring Arbor University

Kyla Thompson

, Indiana Wesleyan University

La'Porsha Timmons

, University of Mary Hardin-Baylor

Laetitia Tokplo

, Mercer University

Alexandra Vasilou

, Northwestern University

Jessica White

, Regent University

Mark Williams

, Stetson University
2022 MFP Addictions Counseling
Laura Adkerson

, University of the Cumberlands

Isabel Anderson

, Appalachian State University

Skye Anfield

, Lewis & Clark Graduate School of Education and Counseling

Sylvanus Ariole

, Metropolitan State University

Brian Baldonado

, The University of New Mexico

Susie Brooks

, Hazelden Betty Ford Graduate School of Addiction Studies

Erin Burgess

, Lewis & Clark Graduate School of Education and Counseling

Ryan Burwell

, University of Colorado - Colorado Springs

Danielle Capparelli

, Appalachian State University

Trevor Carlson, Metropolitan State University

Shelton Clark

, Kean University

Antonio Conway

, John Carroll University

Andres Correa

, Texas Tech University Health Sciences Center

Angela Cupnii

, Indiana Wesleyan University

William Delgado

, Texas Tech University Health Sciences Center

Kala Hall

, University of the Cumberlands

LaQondra Harding

, Purdue University Global

Jazmine Jackson

, Bowie State University

Josh Krawczyk

, Seattle University

Lindsey Laube

, University of Wisconsin - Stout

Elijah Laws

, North Carolina Agricultural and Technical State University

Kristy Ledford

, Liberty University

Dasaeb Lopez

, St. Edward's University

Sandra Lorden

, Tarleton State University

Loren Manning

, Walden University

Michael McLean

, Liberty University

Lillie Mclean

, Mercer University

Lore McSpadden-Walker

, SUNY: The College at Brockport

Lupe Meyer

, Idaho State University

Dakota Milligan

, Montana State University

James Moore

, Metropolitan State University of Denver

Carissa Noel

, Grand Canyon University

Kendra Olson

, University of Wisconsin- Stout

Robbie Osak

, Fresno State

Thomas Pitts

, Boise State University

Lisa Purtue

, Mount Mary University

DeJaunte Reynolds-Villarreal

, Texas A&M University-San Antonio

Tammy Rife

, University of the Cumberlands

Daniela Romero

, The Chicago School of Professional Psychology

Kourtney Royster

, Walden University

Aloki Shah

, St. Edward's University

Lindsay Sheek

, Appalachian State University

Harry Simmons

, Capella University

Andrea Strempke

, University of North Texas

Erika Strong

, Lewis & Clark Graduate School of Education and Counseling

Mary Veronica Sweeney

, Kutztown University

Tina Tseng

, Hazelden Betty Ford Graduate School of Addiction Studies

Latara Williams

, University of Arkansas at Little Rock

KathyAnn Wilson-Beauford

, Grand Canyon University

Humayun Zafar

, Metropolitan State University