 2021 Minority Fellowship Program Awardees Announced
Published 5/18/2021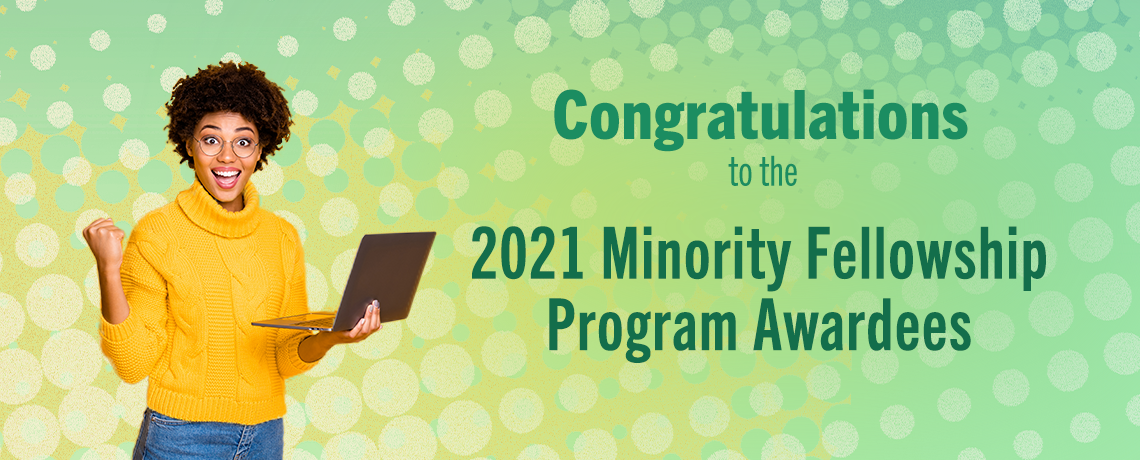 The NBCC Foundation is pleased to announce the 2021 fellowship recipients for the National Board for Certified Counselors Minority Fellowship Program (MFP). Ninety fellows were selected from over 450 applicants to represent three cohorts of fellows: master's-level mental health counseling, doctoral-level mental health counseling, and master's-level addictions counseling.
The goals of the program are to strengthen the infrastructure that engages diverse individuals in counseling and increase the number of professional counselors providing effective, culturally competent services to underserved and never-served populations. Each fellow will receive funds to support their education as well as training, mentorship, and professional development services.
The NBCC MFP is made possible by a grant awarded to the NBCC Foundation by the Substance Abuse and Mental Health Services Administration (SAMHSA), and the NBCC Foundation also collaborates with NAADAC, the Association for Addiction Professionals, to administer the addictions counseling fellowship program.

Congratulations to our 2021 MFP Fellows!

2021 MFP Master's Mental Health Counseling ($10,000 Fellowship)
Mahera

Badat

,

Seattle University

Dorian Banks

,

Walden University

Shani Banks

,

George Washington University

Willie

Borkai

,

Rhode Island College

Gary

Conachan

,

Portland State University

Ruth Cuevas

,

College of William & Mary

Kara Erickson

,

Montana State University - Bozeman

Lauren Flannery

,

Roosevelt University

Phalguni

Freeman

,

Palo Alto

University

Connie Gago

,

Liberty University

Guillermo Garcia

,

San Francisco

State

University

Vera Godoy Reyes

,

University of Colorado Denver

Dominique Harrington

,

George Washington

University

Eliza Jane Harris

,

Appalachian

State

University

Teshauna

Isaac

,

Spring Arbor University

Michaela James

,

Bushnell University

Arrianna

Kennedy

,

Marquette University

Virginia Moore

,

Walden University

Patricia Nicholson

,

Portland State University

Corrine Nightingale

,

Portland State University

Robert Ocampo

,

University of Florida

Ashabi

Owagboriaye

,

Roosevelt University

Jennifer Owens

,

Wilmington University

Alina Quintana

,

California State University, Sacramento

Tihira

Ruffin

,

The Chicago School for Professional Psychology

Amber Slaughter

,

The University of Alabama

Carla Vargas

,

California State University Fullerton

Shabiroon

Vereen

,

Western Connecticut State University

Lauren Walker

,

Northwestern University

Jada Young

,

Brooklyn College, CUNY

2021 MFP Doctoral Mental Health Counseling ($20,000 Fellowship)
Jasmaine

Ataga

,

University of Florida

Guy

Beauduy

,

Montclair State University

LaTisha

Brown

,

North Carolina State University

Kervins

Clement

,

The University of North Carolina at Greensboro

Pamela Fullerton

,

Governors State University

Brook Fulton

,

George Washington University

Diana Gallardo

,

The Pennsylvania State University

Brittany Glover

,

The University of North Carolina at Charlotte

Kyesha

Isadore

,

The Pennsylvania State University

Alice Mills Mai

,

University of the

Cumberlands

Claudia Nguyen

,

George Washington University

Dhruvi

Patel

,

The University of Texas at San Antonio

Zori Paul

,

University of Missouri–St. Louis

Giscard

Petion

,

Georgia State University

Judith Preston

,

Old Dominion University

Adrianne Robertson

,

Georgia State University

Tobias Robertson

,

University of Holy Cross

Loretta Sanchez

,

University of the

Cumberlands

Reyna Smith

,

University of the

Cumberlands

Warren Wright

,

Sam Houston State University

2021 MFP Addictions Counseling ($15,000 Fellowship)
Riley Anderson

,

Texas A&M University Corpus Christi

Kathryn Archer

,

Lipscomb University

Sheila Atwater

,

Grand Canyon University

Ryan Austin

,

University of North Georgia

Mariela Castillo Garcia

,

Metropolitan State University of Denver

Julia

Claborn

,

University of the

Cumberlands

N'Dea

Coleman

,

North Carolina Central University

Angelica Crimmins

,

Lewis & Clark College

Daniel Divine

,

University of Texas at San Antonio

Velvet Divine

,

Montclair State University

Desiree

Falkowski

,

Marquette University

Brittany Fields

,

Xavier University

Kayla Fields

,

East Carolina University

Hilary Flint

,

East Carolina University

Erika Franklin

,

University of Arkansas at Pine Bluff

Sophia Gaffney

,

Seattle University

Elizabeth

Haarberg

,

University of Nebraska-Kearney

Amrita

Heer

,

Seattle University

Raquel Hightower

,

Capella University

Thanh Hoang

,

Lewis & Clark College

Tiffnii

Hughes

,

Liberty University

Domonique Kent

,

Marquette University

Brian Kim

,

Tarleton State University

Aspen Mares-Toledo

,

Metropolitan State University of Denver

Eduardo Medina

,

J

r

.

,

Seattle University

Eva Melendez

,

Indiana Wesleyan University

Ericka Morrison

,

Western Kentucky University

Ryn

Prestia

Schear

,

Lewis & Clark College

Lori Price

,

University of Phoenix

Marchita

Pridget

,

Coppin State University

Angus Raymond

,

Adler University

Lina Rios

,

East Carolina University

Alexis Rutledge

,

Columbus State University

Ruha

Sabeti

,

Grand Canyon University

Megan Shea

,

Appalachian State University

Samantha

Singh

,

Lewis & Clark College

Noah Stein

,

University of Denver

Claire Sutton

,

Liberty University

Pamela Waters

,

University of Arkansas at Pine Bluff

Alvoid

Yokum

,

Walden University